Welcome to Mears' Library Website
Annual ASD Bookmark contest!

The theme this year is: Learning for Life @Our Library

Entries must be submitted to Mrs. Fleming, the librarian, by December 9th.

The Bookmark Contest page has more details about the contest and links to correctly sized templates. Paper forms with the template are available in the library.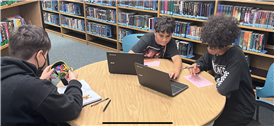 CANVAS

Explore the Library at Mears Canvas hub. All students should have it on their dashboard!
SORA - books, magazines, and audio

Students can read or listen to ebooks, e-audiobooks, and now magazines in SORA. The SORA app is a free download for mobile devices and students use their regular district credentials to create an account. SORA is also available as a website on laptops and Chromebooks. Want help setting up your account? Directions with screenshots are available.
Popular Links:

Need a book recommendation? Click here.
Want your library ID? Click here.

Contact the Library

Contact Mrs. Fleming, the librarian:

Phone: 742-6432

Email: fleming_heather@asdk12.org

Canvas Inbox: search for Heather Fleming