Welcome to Mears' Library Website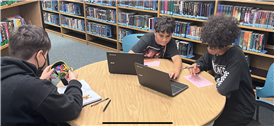 CANVAS

Explore the Library at Mears Canvas hub. All students should have it on their dashboard!
SORA - books, and audio

Students can read or listen to ebooks, and e-audiobooks in SORA. The SORA app is a free download for mobile devices and students use their regular district credentials to create an account. SORA is also available as a website on laptops and Chromebooks. Want help setting up your account? Directions with screenshots are available.
Popular Links:

Need a book recommendation? Click here.
Want your library ID? Click here.

Contact the Library

Contact Mrs. Fleming, the librarian:

Phone: 742-6432

Email: fleming_heather@asdk12.org

Canvas Inbox: search for Heather Fleming