Message from the Superintendent
Dear ASD Community,

The Anchorage School District (ASD) is grateful for the community's support of our 2023 school bond proposition. Voters approved the bond on April 4 and the Anchorage Assembly certified the results on April 25. Thank you voters!

The 2023 bond covers a variety of safety areas, from roofs and seismic upgrades to additional security vestibules for our youngest students at elementary schools. With the thumbs up from voters, we are moving forward with the new security and safety upgrade plan. To learn more about the planned projects, click here.

As Alaska's largest public school system, our priority is to create a safe and secure environment for students and staff. ASD has more than 7 million-square-feet of facilities and maintains the largest public facility footprint in the State of Alaska. Extending the useful life of our facilities ensures that the buildings adequately support the educational needs of our students.

Every year, we budget nearly $21 million for building and preventive maintenance. A quality school's functional life, without major renewal, ranges from 30 to 50 years. However, for ASD's schools and support buildings—many built in the 1960s and 1970s, additional funds beyond the maintenance budget are occasionally required. This is accomplished through our annual Capital Improvement Program, funded by Municipal Bonds.

Thank you for your continued support of our students, staff, and schools.

Best,



Jharrett Bryantt, Ed. D.
Superintendent
Anchorage School District
The 2023 School Bond proposition will support schools across the Municipality of Anchorage
The approximate amount of annual taxes on $100,000 of assessed property valuation to retire the proposed debt of $37.787 million is $8.03.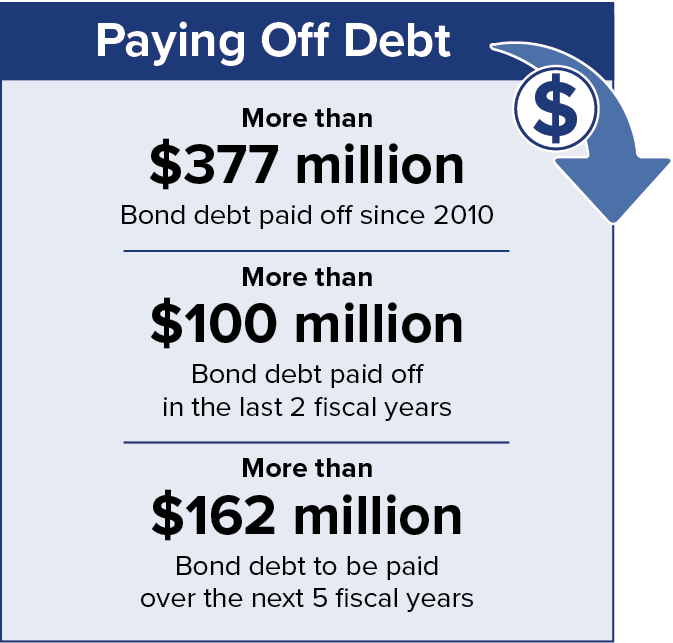 As of June 30, 2022, the District had $462 million of outstanding bonds. In the last two fiscal years, ASD has paid off $110.19 million of debt. During that time, the District has not received any new voter authorization to additional debt to fund capital improvements.
Over the past five years, the District refunded $214.9 million in existing debt at an improved rate, reducing the overall debt service by nearly $24.9 million. This includes $30.85 million that was refunded in December 2021, which resulted in an additional $4.9 million in savings.
In the next five years, the District anticipates paying off approximately $197.81 million in principal, averaging about $39.56 million each year.