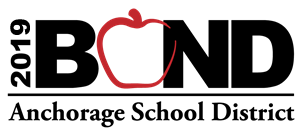 $59,113,000
School Bond Proposal
Work will extend the service of improved buildings for the community.

Vote by mail before April 2
Voted ballots must be postmarked no later than Election Day or returned to a secure drop box or accessible vote center by 8 p.m.
Ballot packages will be mailed three weeks (21 days) before Election Day
To get help with voting questions: Call the Voter Hotline at 907-243-VOTE (8683)

Impact to Taxpayers

Estimated potential additional cost to taxpayers is
$7.53 per $100,000 of assessed property valuation
Roof Replacements & Restorations: $24,882,000

Mechanical Improvement Projects: $5,271,000

School Entryway: Security and Safety Improvements: $12,641,000

Safety and Code Upgrades: $8,690,000

Planning and Design Projects: $3,629,000

Earthquake Recovery: $4,000,000
Ongoing ASD Maintenance Work
ASD has more than 7.8 million square feet in facilities and maintains the largest public facility footprint in the State of Alaska. As Alaska's largest public school district, ASD budgets nearly $21 million annually for building and preventive maintenance. A quality school's functional life, without major renewal, ranges from 30 to 50 years. However, for ASD's 86 school buildings—many built in the population boom of the 1960s and 1970s, additional funds beyond the maintenance budget are required.
Paying Off Debt
| $288.5 million paid off in last five years. | $259 million to be paid in next five years. |
| --- | --- |
How will the proposed bond affect your neighborhood?
Click on the pindrops to see specific site improvements