Article Library for Denali Winners 2021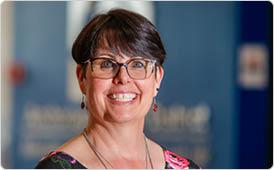 Sylvia Biondich (BEE•YAWN•DITCH)
STrEaM Academy administration assistant Sylvia Biondich has been a member of the STrEaM family for five years – serving all five as a board member and two years as the administrative assistant. Sylvia is viewed as the as the glue that holds STrEaM Academy together and is credited for the program's continued growth.
Sylvia goes above and beyond her position to provide a safe, engaging, and inviting space for students, staff, and community members. STrEaM Academy is much smaller than traditional neighborhood schools, and Sylvia wears many different hats in her role. On a given day, she can be seen as the administrative assistant, registrar, nurse, and the IT help desk.
Her supervisor, Principal Adam Mokelke said, "Sylvia is the first person most parents interact with, and as the following letters attest, our families love her. She makes each parent and child feel special, meets their needs, communicates clearly and supports them. [She] has an amazing impact on our school culture, setting everyone up for success."
Sylvia's connections with families, students, and colleagues run deep, due to the close-knit nature of her board role and job as administrative assistant.
Numerous colleagues shared their support, with one saying, "During this unprecedented year of challenges, she has been the communication hub for STrEaM, helping everyone stay connected through phone calls, emails, Facebook, Instagram, Twitter, and the school website.
During COVID-19, she was constantly conducting wellness checks on families and students to make sure they had everything they needed."

Sylvia also lends her expertise and time at both the Academic Policy Committee and the non-profit board. Her attendance at the monthly meeting supports the governance and fundraising efforts at the school. She also led an initiative during the school year to secure funds for cold weather jackets for students in need.
She is beloved by her school community for being such a source of positivity. "In addition to being the amazing coworker that she is, she is also an amazing friend. She makes work fun and
purposeful. Whenever a gloomy day overcomes our students and/or staff, she is always there,
ready to spread sunshine to make anyone's day better," said one STrEaM Academy colleague.
Another letter of support from a student said Sylvia pours her heart into everything she does. "She loves every single one of us like we were one of her own children. If the school were a human body, she would definitely be the heart. She is one of my favorite [staff] I have ever seen in my 8 years [at STrEaM]."
The Administration invites the Board to join in recognizing Sylvia Biondich as a Denali Award winner for the outstanding example she sets for the entire Anchorage School District community.