Article Library for Denali Winners Spring 2022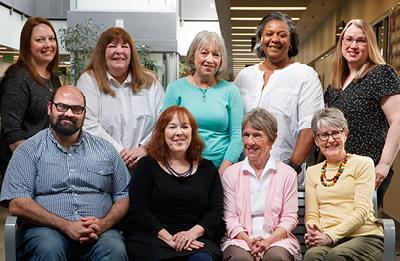 The Child in Transition Team (CIT) serves the Anchorage School District's students experiencing homelessness and students in foster care; two of the most challenging student populations within the District.
CIT strives to meet students and families where they are, both figuratively and literally if needed, so they can maintain school stability and succeed academically. For many students, they may not know where they are staying that night, but they know they will be sitting at their desk tomorrow morning with their friends and teachers.
When a student and family become eligible for services through CIT, the team provides both academic and non-academic support. The list of support is extensive, but there are a few areas that really typify the efforts of the CIT team.
CIT staff go above and beyond to provide a clear path to graduation for many students. In the past six years alone, through collaboration with Covenant House and The United Way of Anchorage, over 600 ASD students got back on track to graduation and received their high school diploma. Many of these students were credit deficient and not on track to graduate. Others were close to graduating but needed the encouragement and opportunities provided by CIT staff.
In addition to academic support, the CIT team strives to provide resources for families to get them back on their feet and on the path to self-sufficiency and permanent housing.
Many of the families CIT works with are in a crisis and often highly stressed. The CIT team not only listens, but they take the time to hear students and families.
They frequently take the time to help a parent unpack their current crisis and attempt to find a solution to the problem. Those solutions may involve helping them complete an application for housing or Head Start, bringing a new backpack to where they are staying, dropping off a hotspot so a student can complete homework, working with Campfire to get a student into the program so the parent can continue to work until 5 p.m., assisting an unaccompanied youth apply for food stamp benefits and strategizing a transportation plan that allows a 6th grader to finish their last year at the elementary school they've attended since kindergarten.
To quote a letter of support from Mountainview Elementary School Principal Christopher Woodward, "We have a saying at Title I schools: Maslow before Bloom…we also say "we can't teach them if they're not at school. If you combine these two adages, you could use them to sum up the function and mission of the CIT team…with the help of the CIT team, our teachers are able to provide quality education to many students who would not be present or able to receive it on their own."