Auditoriums and Auditerias
Bartlett High School Auditorium
Once commonly called the "Little Theater," this venue is anything but little. Originally built in 1974 this recently renovated theater now seats 628.
Located in northeast Anchorage, this theater is great for graduation and awards ceremonies, presentations, performances, and much more.
Chugiak High School Auditorium

This theater inside the Chugiak High School was built in September of 1964; also known as the Steve Primis Auditorium.

This venue comfortably seats 546 people.
Located 15 minutes outside of Eagle River, it conveniently serves the Mat-Su and Eagle River areas.
Ideal for events such as performances, large group presentations, speakers, and theater productions.
Dimond High School Auditeria
One of two of our unique theater settings is the Dimond High School Auditeria. With a capacity of 600 seats, this hall can be set up in multiple ways to accommodate most events. Commonly used for events such as small theater productions, ceremonies, speakers, presentations, and banquets.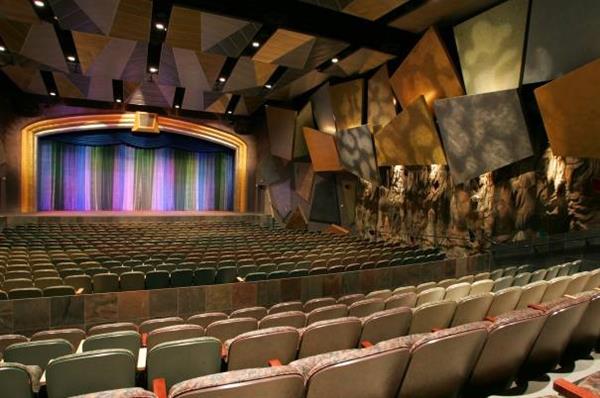 East High School Auditorium
Located in the heart of Anchorage and recently remodeled, this theater holds 693 seats and is tucked away within the school.
This venue is perfect for most performances, productions, graduations and ceremonies, presentations and speakers.
Service High School Auditorium
Located on the South side of town, this cozy auditorium also goes by the name of Grant Fraser Memorial Auditorium or GFMA.
With a seating capacity of 220, this newly renovated space is great for small shows, speakers, presentations, and ceremonies.
South High School Auditeria
One of two of our unique theater settings is the South High School Auditeria. This hall consists of 504 seats, bleacher style. Additionally, this theater has the capability to have a cafeteria style setting for events. Commonly used for events such as small theater productions, ceremonies, speakers, presentations, and banquets.

West High School Auditorium
Originally built as the Performance Theater for Alaska, this massive hall seats a grand total of 1,918. As the largest high school auditorium in the state, this is a hub for large performances, ceremonies, and theater productions.
Fees:

Pre-payment is required and a security deposit may be assessed

Security deposit will be returned within 4-6 weeks provided no damages or overages occur during rental

Usage of spaces on Fridays is billed at the weekend rate.
All fees include the assistance of one auditorium technician. Each additional technician is billed at $75 per straight time hour on Monday through Thursday. On weekends, each additional technician is billed at $100 per hour.
Load-in/load-out can be scheduled through the Rentals Dept at the fee of $75.00 per hour/per tech
Summer rates are the same as the school year rates for auditoriums and auditerias.
Holiday rates are the same as school year rate plus an additional $100 per hour per day for use of these spaces.

Documentation to be submitted at least two weeks before event date:

The organization's certificate of liability insurance in the amount of $1M, commercial general liability with subrogation waiver and ASD listed as additional insured.
A detailed tech rider
A detailed security plan
If the organization is a non-profit, submit the 501c3 determination letter from the IRS

Additional information:

All communications must come through the Rentals Dept - clients are expected to never contact a school directly for any requests or questions.
Rental of an auditorium/auditeria entitles the client to:

At least 6 weeks before the event date, one 45-min walkthrough of chosen facility to discuss logistics, tech needs, and event organization with an auditorium tech
Two phone calls with Lead Auditorium Tech not to total more than 30 min

Additional phone calls or walkthroughs are billed at $75.00 per hour and must be scheduled Monday-Thursday

Spaces included with the rental of an auditorium/auditeria:

Dressing rooms and box office (if available)
Use of the Commons or Foyer at no charge if used for a public walkway. Fees are assessed if the spaces are used for the event.
Additional spaces must be coordinated with the Rentals Dept

Events taking place on 3 or more dates are only considered during Spring Break, Winter Break, and Summer Break.