Join Our Team of School Nutrition Professionals

School nutrition professionals have a direct impact on the health and well-being of children today. Not only do they have the opportunity to influence child nutrition daily through meal service, but they also have the opportunity to foster healthy eating habits that last a lifetime. This is a career path to help create a healthier generation and make a difference in the lives of children. Additional benefits to a career in school nutrition include competitive salaries, opportunities to advance professionally, and a convenient work schedule.

Currently hiring full, part time, substitute and temporary positions across the district.

Cafeteria Managers

Mobile Managers

Mobile managers work in a variety of locations around the district

Student Nutrition Assistants

Seeking experienced and entry level applicants

Substitute Student Nutrition Assistants

On-Call, part-time commitment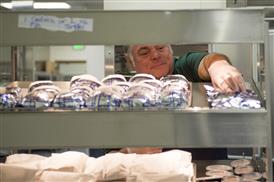 View Current Employment Opportunities and Apply Online

To view the most current list of vacancies, click or tap the "View Current Employment Opportunities" link. The map and table of job postings providesa an easy-to-use map and table of current positins available. Click or tap on the job title in the table to be taken to the job description and to apply online. Please note, the map and table are updated 1 - 2 times per week. The View Current Employment Opportunites" link is updated daily.
The Anchorage School District is an Equal Opportunity Employer