Join Our Team of School Nutrition Professionals and Be a Cafeteria Hero
You can be a cafeteria hero by joining the team that energizes students for active engagement in learning at ASD schools by providing nutritious and satiating meals. School nutrition professionals serve a vital role in our community and enjoy great benefits, convenient work schedules, and career advancement opportunities.
Benefits
Competitive salaries
No nights, weekends, or holidays
Full-time employee benefits include health, dental, and vision
All permanent employees are eligible for

Paid hoidays
Leave (PTO) accrual
PERS Retirement (Public Employee Retirement System)

Opportunities to advance professionally

Many of our mid and senior management team members started as front-line managers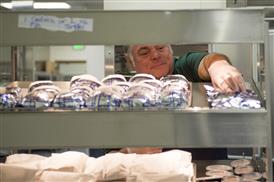 View Current Openings and Apply
The Anchorage School District requires applicants to complete applications online using AppliTrack.

If you need assistance completing an application, please contact the Student Nutrition Department to schedule an appointment. We can assist you through all steps of the application process. For an appointment, call 907-348-5142 and press 0 to schedule an appointment.

The below links are updated daily.

View and apply for Food Service Operations openings, positions include:

School Cafeteria Managers and Assistant Managers
School Cafeteria Assistants
Central Kitchen Assistants and Leads

View and apply for Warehouse and Logistics openings, positions include:

Warehouse
Delivery Drivers

Positions are limited

, the above link may not return any search results

Apply to be a Substitute School Cafeteria Assistant Substitute Cafeteria Assistant

On-call, non-permanent employment
Pays $12.50 / hour
Perfect for PERS retirees; substitute employees may continue to draw PERS retirement
View Openings by Location

This map displays current locations with open positions and is typically updated twice weekly.

If you hover your mouse over a specific indicator, you will see the name of the school, the number of positions open, and location and address of the school..
The tale below lists each location, job opening, and pertinent details about the position, such as pay, benefits, shift start and end times, and required experience.

You can filter the map and table to display only positions that are relevant to you. You can filter by a region within the Municipality, the earliest and latest times you are willing or able to work, experience required, and level of benefits offered. You can manually reset the filters or click your browser's refresh button to reset all of them.
Recruiting Resources
At Student Nutrition, our mission is to enable active engagement in learning at ASD schools by providing satiating nutritional meals for all students.

Severe staffing shortages challenges our ability to fully meet our mission. We need the ASD community's assistance advertising and filling our vacant positions. You can help us by including a text or graphical advertisement in your school or PTA newsletter. For your convenience, we have provided a camera-ready graphical one-half page advertisement as well as a text version of the advertisement. Please see our Recruiting Resources page for details.
The Anchorage School District is an Equal Opportunity Employer