Join Our Team of School Nutrition Professionals and Be a Cafeteria Hero
You can be a cafeteria hero by joining the team that energizes students for active engagement in learning at ASD schools by providing nutritious and satiating meals. School nutrition professionals serve a vital role in our community and enjoy great benefits, convenient work schedules, and career advancement opportunities.
Benefits
Competitive salaries
No nights, weekends, or holidays
Full-time employee benefits include health, dental, and vision
All permanent employees are eligible for

Paid hoidays
Leave (PTO) accrual
PERS Retirement (Public Employee Retirement System)

Opportunities to advance professionally

Many of our mid and senior management team members started as front-line managers
2023-24 School Year Bonus
A $1000 bonus (prorated by FTE) will be paid in the final paycheck of the school year to all actively employed bargaining unit members who complete the 2023/2024 school year.

Employees hired after December 1, 2023, will be eligible for a maximum bonus amount of $500 (prorated by FTE) if they work through the end of the 2023/2024 school year.

These sums are paid as bonuses and are not eligible for PERS credit.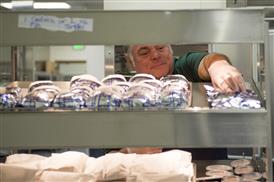 View Current Openings and Apply
The Anchorage School District requires applicants to complete applications online using AppliTrack.

If you need assistance completing an application, please contact the Student Nutrition Department to schedule an appointment. We can assist you through all steps of the application process. For an appointment, call 907-348-5142 and press 0 to schedule an appointment.

Student Nutrition positions include:

School Cafeteria Managers and Assistant Managers
School Cafeteria Assistants

On-call, non-permanent employment
Starts at $14.50 / hour DOE
Perfect for PERS retirees; substitute employees may continue to draw PERS retirement

Central Kitchen Assistants and Leads

Warehouse and Logistics positions include:

Warehouse
Delivery Drivers

Positions are limited!
The Anchorage School District is an Equal Opportunity Employer